Celebrate World Snake Day!
July 16 is World Snake Day: an opportunity to celebrate snakes and raise awareness about their preservation. While snakes are threatened by many of the same issues that affect all wildlife (habitat loss, climate change, and disease), negative attitudes toward snakes may be the biggest barrier to their preservation because it often impedes efforts to address other threats.
Serpents 🐍 of The Rainbow 🌈
Celebrate World Snake Day with beautiful photos of these colorful creatures! Will you help people see the beauty of snakes by sharing your awesome photos of wild snakes? Our theme for 2023 is Serpents of The Rainbow! 🐍🌈
Every day in July we'll be sharing photos of colorful snakes on Instagram and Facebook and we're choosing our favorites to feature in a 2024 calendar!
World Snake Day Shop
Show your love for snakes, spread the word, and support snake conservation with World Snake Day stuff designed by Julie Hsiao for ASP.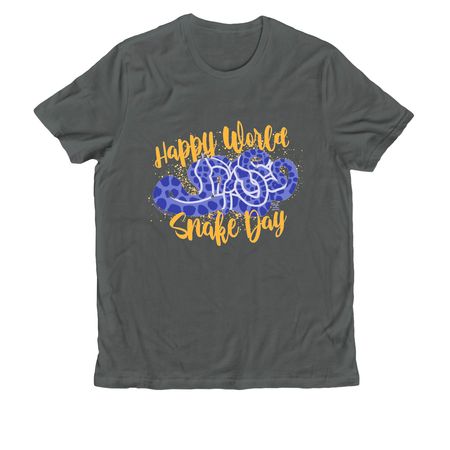 How to Help Snakes for World Snake Day
Join The Den!
Join the Den for World Snake Day! Make snakes more familiar, less scary, and coexistence with venomous snakes safer. Your monthly gift can make that happen.
Share positive stories about snakes
We encourage everyone to use this day to share positive stories about snakes with their friends and families. Need some inspiration? We've got you covered with stories, videos, and graphics below.
Snakes are good neighbors.
Pictured is Allison, a female Western Diamond-backed Rattlesnake, doing what snakes do best: super-effective, all-natural pest control. They eat vectors and carriers of many diseases, including The Plague and Lyme disease. Snakes won't raid your garden or chew up your wires, but they will eat the critters that do. And due to their non-competitive nature and ability to fast for long periods, vipers (rattlesnakes, copperheads, cottonmouths) are more effective at controlling prey populations than bird or mammal predators. Learn more: Snakes Are Good Neighbors.
Snakes can change color.
Pictured here is Glendy, a male Arizona Black Rattlesnake, at his darkest and lightest.
Like many snakes, Arizona Black Rattlesnakes (Crotalus cerberus) undergo morphological color change as they age. What is illustrated here is rarer in snakes; physiological color change is probably most well-known in chameleons, but Arizona Black Rattlesnakes can do this too! Learn more: Did You Know… Some Snakes Can Change Color?
Some snakes are social.
Indeed they are, as are many other reptiles and their social behavior is more like birds and mammals than many guess! We found that Arizona Black Rattlesnakes have friends and individuals they avoid within their community. For more on this topic, check out Squamate Sociality.
Rattlesnakes take care of their kids. Sometimes their friends' kids too.
Rattlesnake babies are born alive and stay with mom a week or two until they shed their skin. Mom keeps them safe during this vulnerable time. At communal nests, pregnant rattlesnakes and visiting males may babysit the babies too. For more on this topic, check out Happy Mother's Day.
Rattlesnake fights are rarely lethal, but always beautiful.
Rattlesnake combat is an elaborate wrestling match, where each snake tries to topple the other. They rarely bite during combat and there is little rattling. In fact, the contest can be so tranquil that it is often mistaken for courtship between a male and female. For more on this topic, check out Lovers and Fighters.
Share these graphics:
10 more ways to help snakes on World Snake Day and every day!